AS LEADERS in the Australian beef industry for more than 50 years, Palgrove Pastoral Company is forging ahead with a new bull selling complex in readiness for their annual sale in September.
General manager Ben Noller said Palgrove had invested in a new bull depot and selling centre at Glen Wilga, Chinchilla, on Queensland's Western Downs, where they would be conducting their sale on Friday, September 8.
Mr Noller said it was a change in venue from Strathgarve, Warwick, where their sale had traditionally been held. He said the decision to purchase a property at Chinchilla went hand in hand with their core business of selling bulls into Queensland, which represented 80 to 90 per cent of their annual sales, including paddock and on-property. They will also continue to operate their Hunter Valley bull sale at Scone in early June for their southern clients.
"The new block at Chinchilla, where we will establish a bull depot and selling centre, is an exciting move for us," he said. "The strategy behind the move was to have a central location for our clients and also to our current assets. The property is 8km off the Warrego Highway (16 kilometres from Chinchilla) and in conjunction with our Drillham property will assist in distributing more than 1000 bulls annually across every state and territory in Australia.
"Mr Noller said, logistically, the decision made sense, with another paddock bull depot on their 2024ha Drillham property, Killaloo, located 80km west of Chinchilla.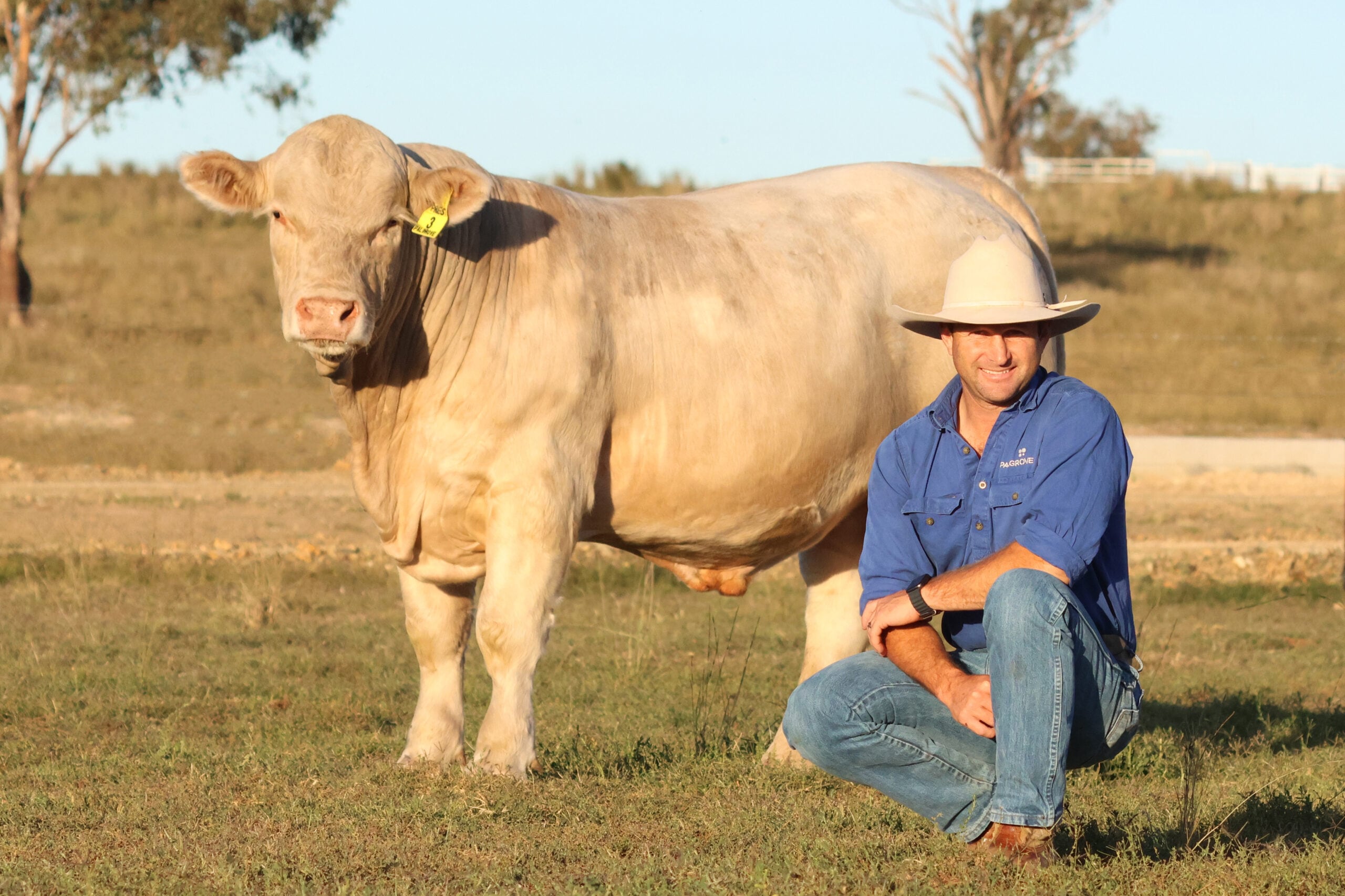 He said Palgrove would offer 100 Charolais and 100 Ultrablack and Brangus bulls at the new sale venue in September, which would be their largest offering for many years. "We have increased the number of Ultrablack bulls in this year's catalogue, off the back of the record sale last year coupled with strong demand."
Palgrove holds two auction sales annually, with its Hunter Valley sale being conducted at the Scone Saleyards on June 2, where 60 Charolais and 20 Ultrablack sires will be on offer.
Palgrove's southern operations are based at the 9508ha Inverell property, Macintyre Station, where Mr Noller and wife Gemma reside, and managed by James Thibault. "We run our Ultrablack, Angus and Brangus programs on Macintyre Station, where we currently have 2000 registered females plus weaner bull development and a commercial herd," Mr Noller said.
"Our other holding in New South Wales is our 3198ha Ben Lomond aggregation, which is the base for our Charolais herd," he said. "We run 1800 registered females over a seven-property aggregation, and both NSW holdings are utilised as weaner bull development areas, before our bulls head north to both our bull depots in Queensland."
In the wake of Palgrove's 2022 record-breaking bull sales for both the Charolais and Ultrablack breeds, Mr Noller believes it was a "very special and unique year" that marked their final sale at Strathgarve. He also believes the sale result was due to a combination of factors, including cattle prices, bumper season, herd rebuild and producer confidence. "I guess everything just lined up at once, with our sale breaking the Ultrablack record top price 12 times, and breaking the Charolais top price three times – however was broken again a week later – with Charolais bulls hitting the $100,000 mark on three occasions," he said. "The whole sale averaged just over $28,000, but we may not see these highs again for a long time."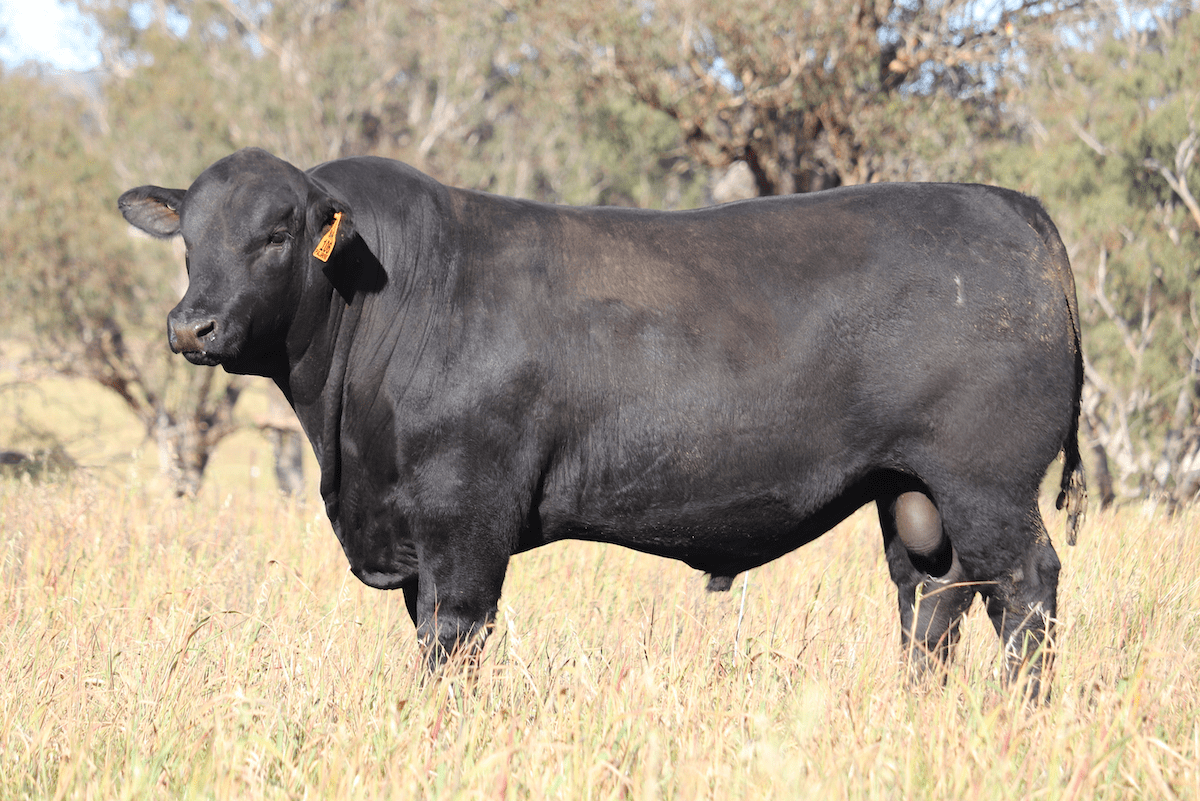 "I would expect a correction this year, as the cattle market has reduced off the record levels, however things are still looking very positive. It's a good thing to see producers doing well, with confidence to invest back in quality genetics to rebuild their herds."
Mr Noller has now been with Palgrove for six years, and said the Palgrove brand had a long history in the beef industry. "We have loyal clientele and our main focus is to keep supporting them, while building new relationships in the industry," he said. "Our clients are our business; it's about understanding what they need to achieve in their commercial operations, and we pride ourselves on being a company that's dedicated to improving the profitability and efficiency of beef cattle production. "We have also always prided ourselves on having bulls available all year round. Although we have two auctions each year, our main business is still our paddock sales.
"We are trying to keep up with the growth of Palgrove, along with the demand for our genetics, and the new selling centre and bull depot is aimed to scale up the business, improve quality and remain central to our clientele. The two bull depots in Queensland will work in closely with each other."
With Palgrove currently employing 25 staff, Mr Noller said there was a plan f0r further growth in their commercial business. "We still run a lot of commercial cattle in and around our stud business. The property, Palgrove, near Warwick, continues to run a commercial herd and is where we conduct the majority of our embryo programs," he said.
"Our aim is to provide well-researched, high performing genetics, backed by science that consistently improves profitability, efficiency and sustainability in commercial beef production."
And they must be doing something right, as the Palgrove prefix is in demand as much today, as ever.